Veterans Honored at Pinning Ceremony
January 28, 2022
Wings of Hope Hospice staff were warmly welcomed at Douglas Cove Health and Rehabilitation in Douglas on Veteran's Day to honor the veterans who live at that facility.
During the pinning ceremony, each veteran received a personalized certificate of honor along with a special veteran pin. The event also included hearing a medley of the theme songs for each military branch, a patriotic reading by Wings of Hope Hospice Clinical Liaison Laura Toweson, opportunity for each veteran to tell about their time of service in the military, the singing of "God Bless America" accompanied by Wings of Hope Hospice Spiritual Care Coordinator Greg Carlson, and a generous helping of apple pie and coffee.
The ceremony was a part of Wings of Hope Hospice's participation in the We Honor Veterans program. A collaboration between the Department of Veterans Affairs and the National Hospice and Palliative Care Organization, the presentation is designed to enhance care for veterans at their end of life by recognizing the significance of their military service to America and for advancing the universal hope of freedom and liberty for all.
Wings of Hope Hospice offers a similar ceremony to all its patients who are veterans, customizing each to meet the needs and desires of every individual.
All seven of the veterans at the Douglas ceremony were appreciative of the honors. One in particular told how he had been looking for just the right time to tell about an unfortunate event that he was involved with during his time of military service where he lost some comrades. With tears in his eyes, he sat back with a look of contentment. He said, "There now, I have told my story. I'm glad I could do that because, [at my advanced age], I may not have much time left to tell it."
The Douglas Cove activity director Bridget Fritz then went around to each veteran with a warm hug, a kiss on the top of the head and words of appreciation.
By: Greg Carlson, Spiritual Care Coordinator at Wings of Hope
Pictured below are Laura Toweson and Greg Carslon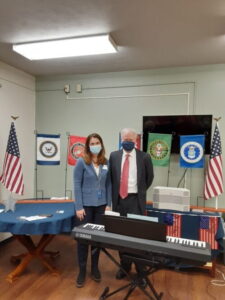 Posted by Wings of Hope in Hospice Support, Stories